Yeah, this time i will tell u about the job i took last month =)

The logo of the event
This is an equestrian event where in this event, the horse has to jump across bars in order to finish. I bet most of you guys knew about it already x) So my job was basically have to become a driver that will carry the horse grooms (caretaker), riders, special guests, media, journalists, and anyone that related to the horses =)The event was held at the Putra Stadium, Bukit Jalil, Kuala Lumpur from 23rd - 25th November 2007. But i worked 1 week earlier =p
The scenery with the stadium as the background
My first day of work was on sunday, where basically in that day i were busy taking all the cars that will be use during the event with some of my colleagues. The cars that was being used are Proton Waja and Proton Perdana model only. Well, i don't mind as long as it is safe for me to drive =p Lucky i got a new car, so the condition is still best =) Basically my work range is between this three:
KL International Airport <--> Mines Resort/Golden Palace hotel <--> Stadium a.k.a stable.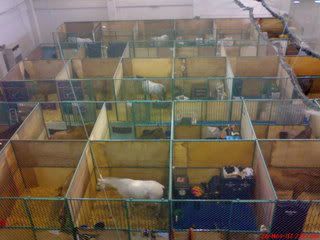 The stables inside the stadium
If you can see from the picture above, that is the horse stable. Some of the horses already arrived since before i start work (around Friday or Saturday i think because some of my seniors already worked earlier). Our main spot is the stadium a.k.a stable.
The lorries that carrying the horses
The horse is being transfer to the stable
When the night approaching, 3 lorries from the KL Municipal Council arrived carrying the rest of the horses for the competition. Well, my first time seeing horses from short distance, might as well as enjoy it x)
The horsey in the stable =)
As i mentioned before, my work is just to send them between those places. Although this job pays quite good, but i have to work as early as before 7am and usually got back home around 11pm - 1am =( Yeah, although driving might seems easy, but actually it is very tiring, plus not good for the backbone and the shoulders (as i my shoulders always got pain =[ ) Lucky most of the guests are very polite and friendly too, so it is easy to get along with them =) But some of them almost don't know how to speak in english, so it is quite troublesome to communicate.
The fish pond at the Mines/Palace Beach & Spa Resort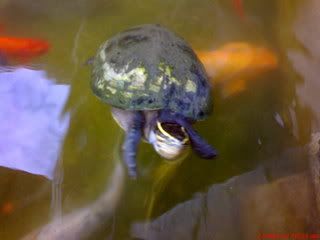 The cute turtle among the fishes x)
Usually early in the morning i'm assign to stand by at the Mines/Palace Beach & Spa Resort since my house is quite close to it. Most of the horse grooms staying here. Most of the time when there are no more or waiting for them, i usually sit besides the pond and play with the fishes in it. I think there got Koi/Carp, Goldfish, Municipal 'Bandaraya' fish (i dunno the fish name, but they always eat the green thing in the pond =p) and a turtle =)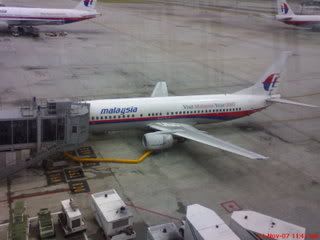 The airplane is docking =)
The monorail (which the first time i know there is a monorail at the airport =p)
My next spot will be the Kuala Lumpur International Airport (KLIA) where here i will need to wait for the guests arrival and send them to the hotel and send them back here during their departure. The guests that i took them to hotel are Lilian Zehm, Florian Meyer Zu Hartum, Toni Leviste, a french guy that i already forgotten his name, Ho Nai Yue (this guy is guest i like to chat with), and Ms Holly. But whenever i went to the airport, the first thing i would do is to stop by at a corn shop and bought the sweet corn cup x) I'm addicted to it xD
The not-best-part here is we have to wait them hours until they came out =( The worst case my friend got, the guest didn't arrive at all and were late informing the logistic department. Pity my friend. To make it much more worst, later he got a guest that totally forgot about her flight date as she was de-touring herself in Phuket before the event >_> So my friend had to wait for nothing again -_-
When the event closed its curtain, i had to sent some of the guests back to airport. I would like to express my thanks to Mr Ho Nai Yue and Mr Florian Meyer Zu Hartum for the tips x) Oh well, i gonna miss the sweet corn cup the most :'(
The front view of Palace of the Golden Horses
The Malaysian A1GP car was being displayed at the lobby
My last spot would be Palace of the Golden Horses where most of the horse riders and guests are staying. This place is quite big plus it is very busy since there are a lot of functions in the hotel itself that made the hotel very busy. But i guess here don't have the place to sit down and enjoy the nature like i usually did at the Beach & Spa Resort =( So basically a boring place to stand by >_> I hate when sending the guests back to their hotel around 5pm - 7pm as people are rushing back to home. There will be a mass of traffic jam that we have to go through since there is no other way =(
The event itself went well although i don't have the free time to watch the event =( So much for being hardworking <_< In the end, a Swiss named Markus Fuchs won the overall of the contest, so congratulation to him =)
The horses are going back
I gonna miss this guy :'(
So the event ended, and most of the people and the horses are going back too. I think 2 or 3 days was busy just sending them to the airport. There are some cases that they went by themselves without informing us first, grrr... =[ Well, finally watched as the horses are being transported back to the lorries. I gonna miss one of the horses belongs to Mr Cayetano Martinez de Irujo that i always play with :'( Well, he did bit me once, but it won't stop me from caressing and playing with him x)
In a building very near to KLCC where i collected my paycheck =p
As for the conclusion, it was a good experience for me when i was working with the event. I met lots of people and learn different kind of things especially about the horses x) This will be a memory i will never forget. If i still have the chance next time, i would like to take this job again x) There were lots of things that i wanted to write but that would make this a journal already if i do that <_< If the fate once again crosses my path, i will meet the horsey again x)
For more pictures and information, please visit here:
TheHorsesAreComing.com
Ciao~