Yay, Google sent me a letter xD
Yay! Once again my night life has robbed me the freedom to update my blog xD Yea yea, i've been busy with my night life in the past few weeks =p The exam was over so now is the time to enjoy till drop xD
Thanks to both my televisions that their AV port went broken, i can't play my FFXII at all =( Well, somehow that day was quite hot that i realized my laptop is kinda overheating. Thanks to the Lowyat.net forum, i managed to get some 'enlightenment' to build my own laptop cooler xD The ingredients? Well, initially i had some spare parts for the computer fans and a spare 9V power adapter (from my old SNES game console). So the things that i had to buy are the paper holder and door rubbers. Don't want to explain so much, so just take a look at the pictures below xD
The spare computer fans that i have
The back side, the hole for the fan being cut, the door rubbers mounted to the paper file.
The front side, the hole were cut for the fan to blow the wind
Screwed the fans, do the wiring, then close the paper file, tada~ complete xD
Switch On! It works =D This laptop cooler was designed according to my Acer Aspire 4310's back design. The left fan blows wind to the laptop fan while both center fans suck the hot air from the laptop.
Side view, forgot to take out the price tag xD
The 9V power adapter on the right, but it is recommended to use a 12V adapter as the fan is a 12V fan
Side view when with the laptop attached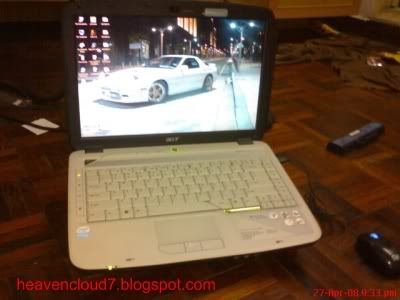 My laptop sitting on top of it
Paint it black in the end xD
So how was it? Yea i know, sloppy work and design =p Anyway, today i fetched my mum from the KLIA as she just got back from Langkawi. On the way back, we stopped by at Sultan Abdul Samad Mosque just beside the airport for Maghrib prayer. It was my first time there though.
The prayer main hall
The magnificent artwork of its ceiling
The fountain
The enterance to the main prayer hall
Main enterance
Anyway, i really need to catch up with my anime and drama, but since like my night life is so addicting, so very hard to resist xD Hopefully i would have enough time to watch them... someday xD
Ciao~