Since certain people already bored with my wedding crasher post (i went there because i can get free food you know >_>), so now i presented to you guys, the Boy's Expensive Big Toys a.k.a Car =p
Recently i add some mods to my mum's car =p. The first mods was adding a brand new powerful rear speaker, a 6x9 3-way Pioneer TS-A6972E speaker =)
The Speaker =)
The cost? RM250 with the installation. It is quite a good price as the current market price can reach up to RM300 for this speaker model.
Top view of the speaker after getting it out from the box
The back view of the speaker magnet
During installation
Tada~ Finished =D
Due to my standard audio player, the difference is not that great. But when i connected it with my Sony Ericsson w700i via a 12V FM player, the sound was damn great =D But still, i need to do a further enhancement in order to produce a richer sound. So now i need to buy a front/mid speaker, amplifier, and a new audio player soon. As for tweeter, crossover, and subwoofer, that can wait later =)
A set of front/mid speaker with tweeter and crossover worth RM260, but Pincer brand, never heard of it, so don't want to buy it xD
I want to buy that player x_x
So as for now, my wish-list for an enjoyable ride will be:
Pioneer Audio Player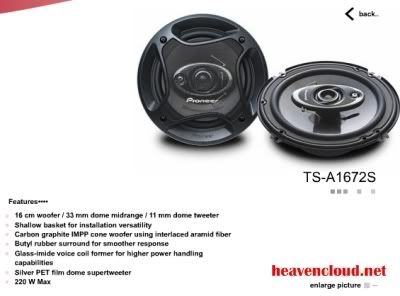 Pioneer Front/Mid speaker
and Pioneer Amplifier
Yes, i will dedicate Pioneer to my car xD Pioneer is a good audio brand after all =)
Besides the audio upgrade, i also need to consider the security of the car as currently there is no any alarm system for the car at all >_< The previous stock alarm was removed by my dad a few years ago due to unknown reason. I asked him, he said he had forgotten as it was a long ago >_>
After discussing with my friend Amir, i decided to focus on the security issue first. So i went to the car shop to get myself a Tenon 2-way car alarm system that worth RM370 plus the installation for RM40.
The box of the alarm
Along the installation process, i found out that the central-locking device at the driver side was already damaged as it can't control the central-locking anymore. So another RM30 to replace a new one $_$ The process of installing was quite difficult as there are a lot wires that need to be cut and connected.
This alarm is really cool. Besides the normal lock and unlock, it has several other functions as well. So far from what i managed to understand, i can even lock my trunk and it only can be open via the remote (but i need to add RM60 for the device >_>), a turbo timer (but my car is not a turbocharger engine, so kinda of useless >_>), whole car sensor (which mean the alarm will set even when someone try to knock other part of the car), 2km range detection, an engine auto-start (which i like =D ), and the awesome 2 way alarm system (whereby normal alarm only provide 1 way which remote-to-car, but this 2 way alarm also provide car-to-remote communication which will inform the user that the car alarm has been set on).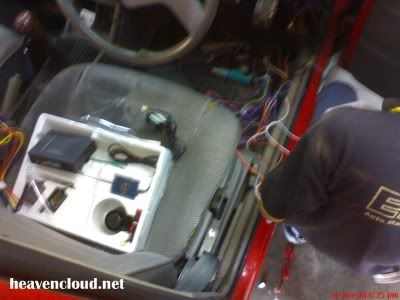 During the installation process
So in the end, everything went fine, now i can use the alarm system =) Before too late, i asked to installed a front small tint to the car which cost me RM10. So the total money spent was RM450 x_x Oh well, this is my investment as i need this car when i start working later, maybe around September or October this year =)
By the time i got home, my mum keep asking me about the price, but i just say it is secret xD If she knows the amount, she will kill me for sure >_> But i guess the expression from my dad made my day. The alarm will lock all the doors whenever u started driving when you pressed the brake pedal. My dad said to me:
"Later if the car got fire, then i will die trapped in the car la..?"
I were like blur a few seconds -_- Of course you can override the lock by manually lift off the lock and can get out from the car >_<
Oh well, now my bank savings left with RM20, now where should i go and dig some more money.....? >_>
Ciao~