Yeah, I don't know whether this is true or not, but I've been asking several RapidKL bus drivers since this morning when I'm on the way to my class. They said most probably RapidKL bus going to change their ticketing system where the ticket from July onwards,
you can't re-use the ticket anymore
.
Yes, so that mean for those people (me >_>) that somehow managed to save expenses by hopping several buses that using same ticket, by July, you can't enjoy that privilege anymore =( Yeah, from that onwards, it will revert back to the old system, where you buy ticket everytime you hop in a bus =( The bus driver said this system was actually planned to be implemented this month (June), but somehow they decided to wait a little longer.
The main question is, will the price remain the same? But then you will have to buy each ticket whenever you hop a bus. One hint for sure, the driver said, they might slightly, yea slightly decrease the fare (maybe 10 or 20 cent <_<) for each ticket. But anyhow, you will have to wait. The most important, you are going to spent more >_>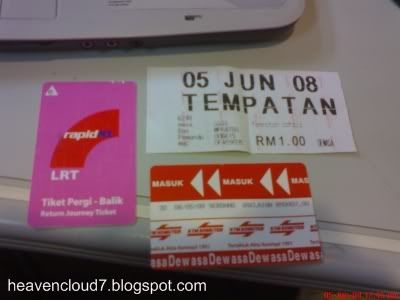 I'm going to die paying these tickets everytime i go to classes x_x
I also asked the KTM worker about a possible raise in fare. But they immediately said No as KTM is part of the government, so they are somehow, subsidized (maybe <_<) and they won't increase price (i hope >_>). As for the LRT, the answer was "Don't know". Since buses under RapidKL is doing some changes, the LRT which will be affected with the increasing cost of electricity this July, i bet they also will increase their price >_<
My 'Bling-Bling' >_>
So in the end, if you happen to see a person holding so much coins during at the ticket counter, that is definitely going to be me xD Yeah, scratching every coins until the last drop of my blood in this new dawn of Malaysia >_>
Ciao~