For further reference, ICE = In Car Entertainment
Yeah, finally I have ICE-ed up my Meteorain =D Somehow I managed to loan the money from my sister (as I don't have any money at all =p ) to completed my car ICE system =) Below are the list of the equipments that I've installed in Meteorain:
Pioneer DEH-2050MPG head unit
- MOSFET 50W x 4
- AUX in
- Remote control
- MP3 and WMA
Pincer component set 350W 4ohm(i'm sure this is a copycat brand as the label is same as Pioneer)
- 2 tweeters half-dome(design like SoundStream tweeter)
- 2 crossovers 3.5KHz 12dB/oct
- 2 6.5" mid bass speakers
- 25mm ASV voice coil
- Neodymium magnet
2-channel Amplifier 800 watts (i think, not sure what brand)
Pioneer TS-A6972E 6x9 3-way speaker (I already bought and installed it earlier)
Overall, I'm very satisfied with the sound produced by this kind of set up =) The bass was very decent and there is no problem at all with playing with all kind of songs. Although my actual target is to get all of the ICE system under Pioneer brand, but due to most car accessories shops here didn't have any stock for Pioneer components set and amplifier v_v So I had to settle with Pincer brand. An unknown brand but with a same label design as Pioneer, plus their tweeter design was copied from SoundStream. But nevertheless, their performance was really good despite I'm using an unknown components set plus a cheap amplifier. It also improved the sound quality produced, thus leading to an enjoyable ride with my Meteorain =)
There is one thing that I kind of wondering, my engine idling went up like 500RPM from my normal setting. I wonder why as I and those mechanics didn't touch anything on the engine. All they did was a wiring from the amplifier direct to the car battery that had been fixed to the right node of the battery. In between the wiring, there was a big fused installed which I've never seen it before. But oh well, as long as it can runs perfectly fine and it doesn't drain my car battery like a mad man, I guess I should no need to worry. But I do need to worry visiting the petrol station often if I'm idling the car too much =D
A little advice for those that plan to ICE their car, please don't place the Tweeters facing towards you. When you have the tweeters installed together with the crossovers, it will produce a high frequency sound directly to your ears. This is bad for the ears and also your concentration. The best position is to make the tweeters facing the windscreen of the car. Happy modifying and ICE-ing your ride =)
As usual, we will let the pictures do the talking =)
My old head unit, Blaupunkt Zurich RCR26P
Making the wiring for the socket for the new head unit
Making the wiring for others
Installing the crossover
Finished cutting the hole for the speaker
Tada~ finished
A closer look at the speaker
Installing the amplifier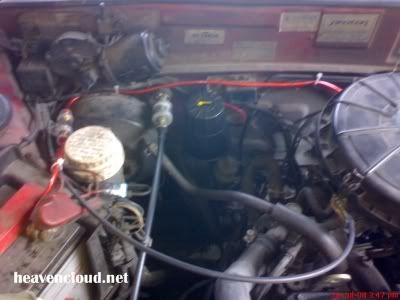 The amplifier wiring direct to my battery
A close-up with the fuse in between the amplifier and battery wiring
The head unit without the faceplate
The head unit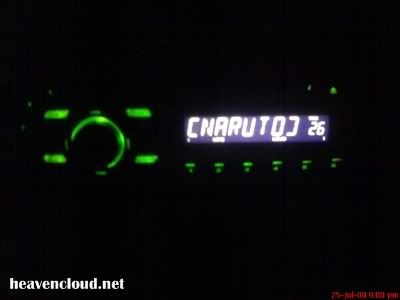 Head unit at night
The tweeters. Remember, this setting is bad lolz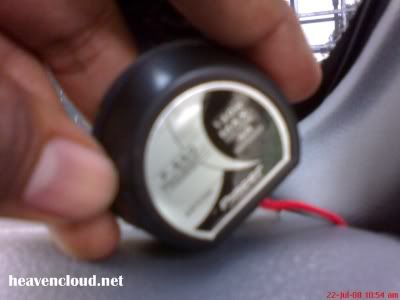 The label at the back is no different that the Pioneer label
Overall view of the interior
Oh yeah, finally I had Meteorain undergo its scheduled service (after almost exceed 2000km, thanks to someone else idea of going to Genting Highland and Fraser Hill in one night >_> ). Here are the parts that I chaged during the service:
- spark plugs
- engine oil
- oil filter
- air filter
Process of changing the air filter
Upon suspecting, some of the car parts also need to be changed as soon as possible according to the mechanic due to old age. These things are:
- radiator's hoses
- engine block gaskets
- camshaft timing belt
- transmission oil
Today, one of my friend Ariff decided to buy a new head unit for his car as his previous head unit was already broken. So he decided to take the Sony model (can't make out the model number, sorry) and install it in his car.
My Pioneer faceplate cover and Ariff Sony faceplate cover
A view from what the monster inside
As I went there, I also bought and installed door visors for my mum's car as she likes to open the window while driving. So this visor can prevent water from entering while she is driving on the rain.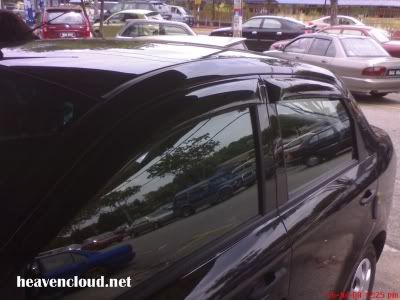 It looked kinda cool, maybe because my mum's car is also black =p
So right now my car has already turned into a mini disco. Maybe later next time I should buy the bling-bling sphere to put inside my car =p
Ciao~
Related Post
Few Upgrades For My Mum's Car =D