This is a well-known disease that been spreading very rapidly during the school holiday, human mating season, or as known as baby-making process :p Ok ok, maybe some of us still doesn't get my point so let's cut the chase short. The thing I was talking is about marriage xD
I have no idea what these two guys plan to do, maybe bbq-ing the birds inside the cage?
So it was finally the time for one of my good friend finally tied the knot with his chosen one. The said person was Keisuke (Munzeer is his real name anyway >.> ) Finally he able to end his bachelor life and move on with life (or should I say moving ahead of us :p )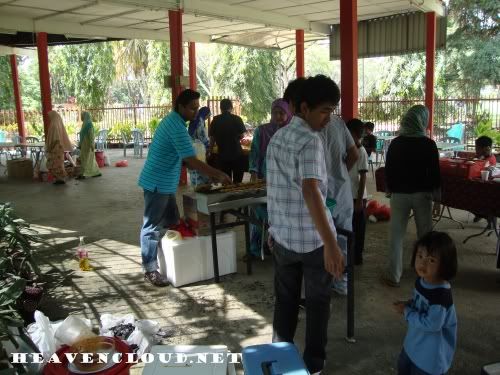 Time to get busy
Zul and Khaidir setting up the grill for the chickens
I weren't available during his oath/swearing (or whatever you called it) since I myself were quite busy preparing to go back to my mum's hometown since my own cousin is getting married (see, it is disease, told ya). But I managed to attend the ceremony for the bridegroom's side, but as one of the volunteer for the ceremony. My assignment? It is an easy job, but with the most grueling work load with the non-stop stress-building and the one that will make the guests coming and queuing up like mad, cooking the lamb chop :p
and the mayhem begun...
In any way, I weren't alone during at that time since Dzulq, Budin, Khaidir, and Yazid (he stuck his nose last minute right after finished his engagement with his chosen one, another disease in-the-making >.> ) Zul and Khaidir was busy grilling and barbeque-ing the chickens while Budin was helping out with the lamb chop.
Heating up the spaghetti sauce
Khaidir busy dealing with the chicken
While Zul cooked the lamb chop while posing for vanity-moment >.>
But of course, he needs to help khaidir too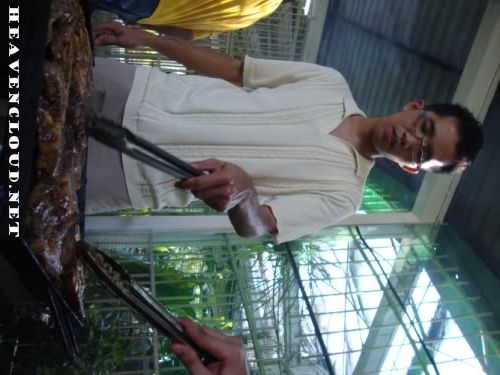 Yazid decided to jump-in the bandwagon
Kak Tini (Numan's wife) was frying the fries
and the other darlings were toasting the garlic breads
It has been a long time since I tasted Munzeer's dad home-made lamb chop. I really like the sauce that been made by his dad, simply original and tasty, unlike those lamb chop dish you can find in a normal western restaurant (exclude the high-class western restaurant okay? <.< ) Being together with a good food, I can't resist to cook while eating at the same time, multi-tasking :p
and here comes our VVIP :P
Munzeer and Shikin (his wife name, if you still haven't been informed) arrived soon later. Since this is just a small and simple party, there isn't any kompang needed but just simply enter and greet everyone else there. Well, for us, had to continue our work to serve the guests making sure they are fed >.>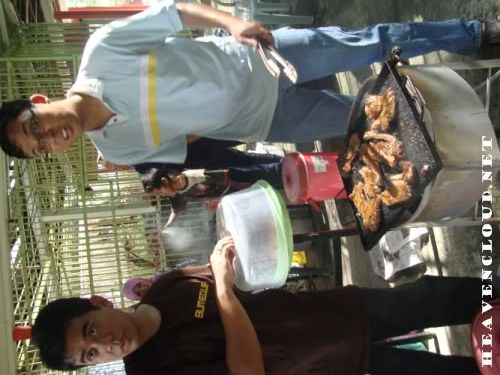 "WTF??!! You want us to prepare 30 lamb chops in 10 minutes for the bride and groom???!!"
Overall, it was a successful event and it went on smoothly. At last but not the least, congratulation to Munzeer and Shikin. Although seeing them together made me can't stop reminiscing our playful childhood time, but I'll save it later for another blog entry :p
Our friend Azhan also didn't missed the party
As for my own wedding you asked? Maybe in the next 5 – 10 years as I have plenty of things I want to play with before I settled down :P
The bbq chicken got into the third place among the guests
The runner up for the best and hottest food, Satay
and the winner... where it puts bbq chicken and satay to shame due to its heavy demands and long queue.... lamb chop xD
P/s: It appears that someone went M.I.A in Algeria during his own twin brother's wedding >.> and to make it worst, the family didn't care anymore where on earth he end up on that day LOL
At last, not the least, a memento (those that didn't come, you guys can weep :p )
Ciao~