Hi all. Long time haven't blog =) As usual, was too busy with work. Before too late, I wishes all Happy Chinese New Year (although 1 month too late xD ). Now let start with some fillers entry =)
The only angpow I received for the Chinese New Year =( Hopefully next year I should haunt more victims xD
My boss treat us a dinner buffet. I ate like no tomorrow, and I swear I'll never eat wasabi ever again x_x
Coming Soon at the showroom near you =p
*end of fillers*
Ok, back to the topic shall we? =p Not long ago, I went on and participated in a charity event to the Rumah Impian (orphan house) organized by the Proton Saga BLM Club (www.blmclub.co.cc) (as my mum owned the car, so I just tagged along despite not being the owner >.> ). Nevertheless, what is important, is the heart =D Speaking of which, I felt disappointed with another blm club (Prosboc) which decided last minute didn't want to participate in the event due to religious concept. What the heck, we are there to help, not to infested own minds with religion =.= I myself although came from different religion with the orphans, didn't have any problem at all. Oh well…
The house
The founder of the house
We gathered around 11am then went to 1 Utama as some haven't bought their contributions. Yes, each of us must at least bring something useful that can be given away to the orphan house. Upon reaching the house, we were greeted with a fierce doggy guarding the house (and I was like "Oh no, I definitely not going to enter the house" xD ). Lucky they went and put the doggy into his cage, or else I head back first =p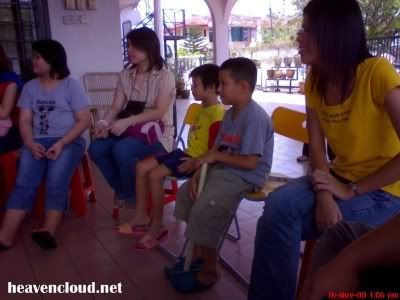 Adam (in grey), the most hyperactive kid in the house @_@
It is punishment time
It was a fun and harmony event I would say. We played with the kids with a few games that a few of our members suggested. After tired handling those young kids (we are already old people, mind you =p ), we took a short tour around their house. The house was in a good condition and at least we can rest assured that the kids going to grow up just fine even though without their biological parents.
Their beds
The kitchen
The art section, which mostly being contributed by the kids which already left the house.
Their life might be unfortunate, but it is all depends on us the community and as a human, to help them and make them live and can dream for their future. Life is always a never-ending mystery adventure. You'll never know unless you open the box.
Hope to see those guys become a respectable and reputable person soon. Until that time comes =)
Ciao~