===============FILLER===================
Keisuke was caught red-handed after having a mental breakdown due to relationship problem =p
===============FILLER END===============
Starhill Gallery Bukit Bintang (i know, my camera and shooting skill sucks =p )
Mmmmm… it has been a long time since I had a good food. A few weeks back, my company decided to have Japanese buffet dinner together. The dinner took place at Jogoya Restaurant at Starhill Gallery Kuala Lumpur.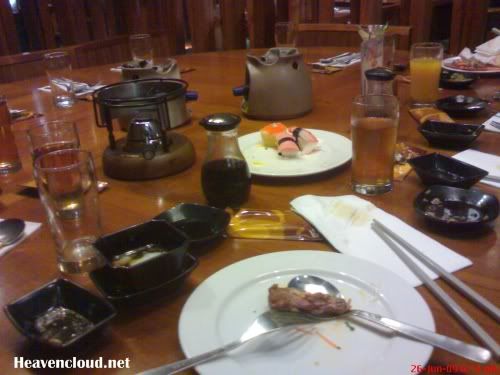 I'm just too greedy =p
The restaurant atmosphere was quite decent and the food, I'm not quite sure as I rarely eat any Japanese food. So basically this was my first time eating at a Japanese restaurant (I ate some sushi I bought at Carrefour, but I don't think that would count >.> ) Well, I guess it was ok as I don't have any stomachache afterward lol.
Group picture with the everyone in the company (that little boy didn't count >.> )
Besides Japanese cuisine, they also serve western and also Chinese food. So I had to try those dim sums and herbal tea, but I guess the Chinese herbal tea was too strong for me >.< Anyway, the night spent there was worth it. Well, I'm looking forward to go there again. Hopefully this time I'll bring a decent camera to take the picture of the foods, lol
Ciao~