Hmmm…. How long have I updated the last blog entry? 1 month++ I guess :P It can't be helped, I was too busy with work, festival, and vacation trip. Oh well, I'm making up excuses as usual :p
Anyway, recently it was the month where majority of the Muslims celebrated the Eid after a month of fasting. That also including me as my family excluding my dad, went back to my mum's hometown somewhere around the state of Perak. One thing for sure I hate during this kind of time, the amount of traffic was massive and overwhelming. The journey from my house to the destination took up around 320km of distance. But could you imagine traffic jams worth around 250km along the journey on the highway??!! >.<
Mad rush as people doing last-minute shopping
and the city has became a rubbish city on the next day x.x
The normal journey that supposes to take around 4 hours became 6 hours instead >.< Oh well, we managed to arrived safely around 7am. Since we are expecting tomorrow will be the Eid, everyone were busy preparing the stuff like cleaning, decorating, and food. As for the kids, just continue playing and lighting the firecrackers at night.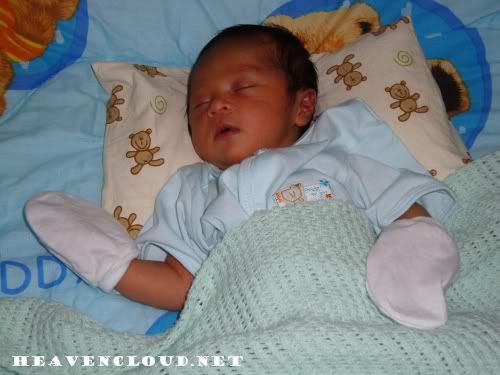 I got another cousin >.<
Lighting up the rockets
and the firecrakers galore has begun
Finally, the awaited day has come! The guys have to go for the special prayer while the girls are just optional. The moment right after the prayer, it is feeding time!!! xD I think I just covered 1 month worth of fasting in just 1 day >.< Ketupat, Rendang, Laksa, Lemang, you just name it. After everyone is ready, we visited our grandmother's grave who passed away last year. Right after the visit, I decided to pay my other late grandmother's house at Penang. She also had passed away for quite some time now and her house currently being rented to a group of foreigners (according to my dad). Seeing the house made me felt a bit nostalgic, old memories seemed like dropping by inside my mind.
Visiting my grandma's grave
Stopping by at my dad's grandma house
Oh well, time to head back for another incoming activity. This time around, my mum's family decided to have a seafood barbecue. I didn't help much as I kept myself busy with photographing during the barbecue haha. Despite on festive mood, but work must go on. Even during Eid, my grandfather still getting catering request from the villagers whether for weddings or celebrations. As his grandson, I need to go and help him on the site of course.
Everyone busy preparing for the barbecue
The ones in-charged of barbecue-ing the foods
Don't forget to say thanks to the God
Ittadakimasu~
One of my uncle's special dish, stingray herb @.@
Barbecued cat fish
Barbecue time!
As the girls watching a ghost movie >.<
and we the boys watching EPL football match :p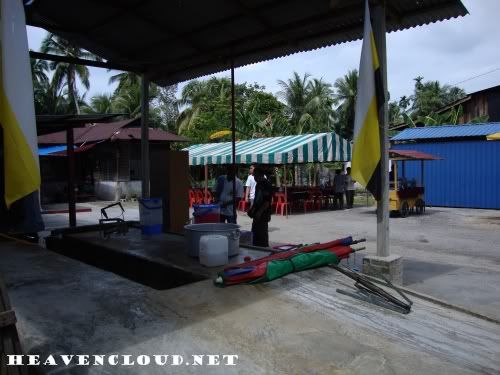 Getting ready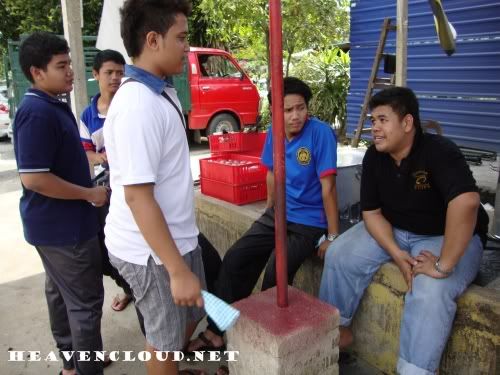 Strategy meeting lol... assigning work
Work, work, work....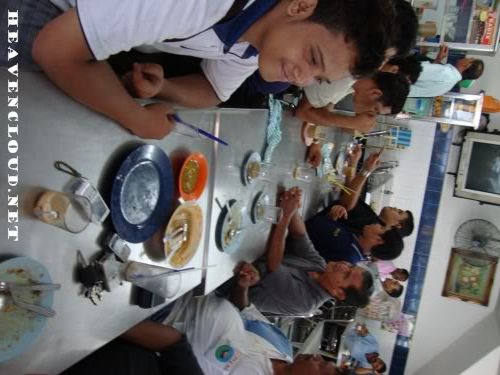 An evening tea after all the hard work
Enough with the helping, it is time to enjoy ourselves x) I decided to have a stroll at the Penang main island as a few of my cousins decided to tagged along. We went to the Gurney Plaza for a little shopping, dinner, and movie. Around 1am, we already headed home after hanging out around the Gurney Drive road.
Watching the ferry docking
My cousins and little brother that tagging along
Eating our dinner at McDonalds inside the mall
Whenever it is Eid, most of the kids will only look forward to one most important event, which is money giveaway xD But for me, this will be the first time I'm giving away the money to my smaller cousins >.< I'm almost nearly went broke hahaha.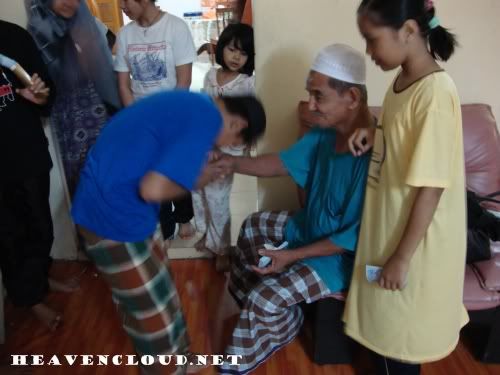 Getting the money from grandpa
Even the little one also deserve the money :p
Taking a peek inside the money envelope eh?
Show your appreciation first!
and don't forget to say thank you
After all the fun had been sought and earned, it is time to part ways. One by one waved goodbyes and so does my family also since each of us have school or work to attend in the beginning of next week. It was a meaningful Eid, hope it will again next year :)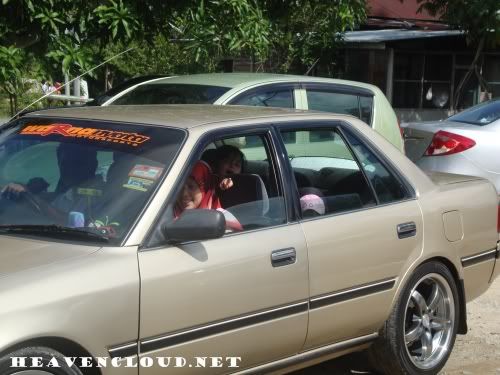 Time to bid goodbye
But the only funny thing about this year was, my grandpa is getting another grandma for us @.@
Did I ever mention about Meteorain is undergoing color change? >.>
plus with a leather change >.<
Ciao~