Career = Money = New Hobby
The above equation would best sums up about me. The life after having own career, I slowly began exploring new path that I couldn't take when I was still studying. Most of the loyal readers would already knew my last new hobby, Gundam plastic model a.k.a Gunpla. But this time, I present you, my underwater expedition :D
Munzeer decided to test the new raft inside the house bath tub >.>
Before we go further, I would like to tell you a funny story on how I discover this new hobby. For the last 24 years of my life, the only seas I have been are on the west coast of Malaysia, especially Port Dickson and Batu Ferengghi. Geographically, due to west coast location just beside the Sumatra peninsular, Indonesia, and also the heavy traffic of the Melaka Straits, the sea and its beach were mostly shallow and sandy. Thanks to that, I have a mindset where any of the sea in Malaysia would probably look the same. This remain until I visited Terengganu to accompany my brother for his new university (please refer to the Kuala Terengganu Outrun post 3 entries earlier). For the first time I stepped on the east coast, it was simply Fall-in-Love =p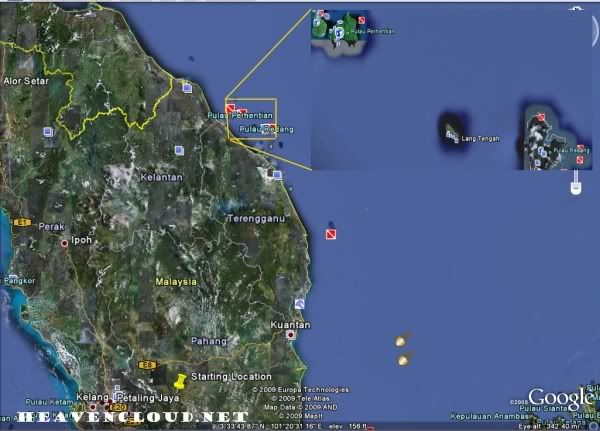 The exact location of the island
My first target is the Lang Tengah Island which located in Terengganu. It is just a small island which situated in between the famous Redang Island and Perhentian Island. But, we almost picked the wrong date to go there as the seasonal monsoon is approaching (expected monsoon to hit from November till March).
Mental-man is losing his sanity... >.>
For this expedition, I invited along some of my hardcore friends (known for their notorious survival skills =p )Basyeer and Munzeer. It was a little disappointing when some of the other friends couldn't make it to the expedition. Anyway, the show will go on like it planned to be.
Dinner at Cherating, at 1am :P
We started our journey on Thursday night (15th October) using my car, Climhazzard. The plan is to reach my brother's place at Kuala Terengganu before dawn. It took us around 6 hours to reach the destination and met with my brother as he will take care of Climhazzard while I'm away to the island.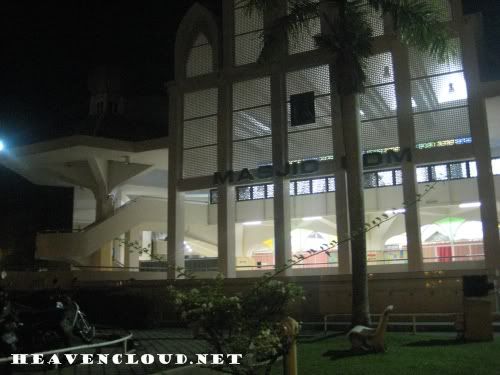 Stopped for Subuh prayer
Watching the sunrise at the beach
We took a boat from the Merang Jetty which a few kilometers away from my brother's place. In order to get to the island, we had to hitchhike the island resort's speed boat. One way journey to the island cost us around RM55 per head, plus RM5 government tax (per entry to the island). It took almost an hour from the jetty to reach the island (lucky I didn't follow Munzeer's idea of rowing to the island with the raft we bought >.> )
Merang jetty
Chatting with John, Richard, Paul, or whatever his name was while on the boat >.>
Island spotted
After the touchdown, we had to do a little forest hiking to find a suitable place to camp (we are not allowed to camp near to a resort's beach). Being unprepared and lack of sleep (I stayed the whole night driving, mind you), it was so tiring for me that I'm unable to think of anything else besides opening the tent and sleep inside it despite Munzeer tried to get my attention on something else >.>
Painfully crossing the forest >.<
Deciding which place to put the tent
Munzeer was enjoying the view of a naked woman far ahead :P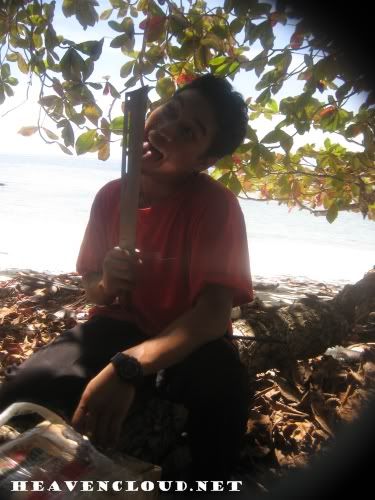 Will I be ok to spend 3 days with this psychopath guy?
The lady luck was on our side, there was an unoccupied beach just beside the resort which was divided with tons of big rocks. We set our tent there and sorted out our things inside the bags that we were carrying. Right after finishing the tasks, I can only think about bed, while Munzeer and Basyeer decided to do some exploring on the island.
Both of them headed to the forest
and later found a so-called paradise (but turned out to be a fluke later)
Munzeer missed his girfriend far away on the mainland
and his Testosterone went outta control while shouting her name <.<
While both of them headed out, I found myself unable to fall asleep, thanks to the constant falling leaves that making a sound like footsteps >.< Being alone myself on an unknown place, my body automatically increase my sense or awareness and hostility. Thanks to that, I'm unable to sleep till both of them got back from their expedition >.<
Are you reeeeaaaaadyyyy???? xD
Right after they got back, it is time to test the water and our gears :D As we equipped ourselves with the gears and sun block lotion, we didn't realize the blunder we made after we got into the water. It turned out that Munzeer and I bought a wrong type of sun block, which not made for snorkeling >.< So we end up being poisoned in the eyes when the water mixed with the lotion and gets into the eyes LOL Since our eyes are irritated with the chemical reaction, mission abandon LOL
After rinsed it with plenty of water, we decided to give ourselves a rest. As for me, I still can't sleep for an unknown reason >.< So I had a little chat with Munzeer about the snorkeling equipments since my mask is failing on me (that's what I got for being cheap, bought cheap snorkeling gears LOL). Tested Basyeer's mask on me, somehow it fitted my face properly. As Basyeer was sound asleep, I suggested Munzeer for a test run at the sea with the borrowed gears =p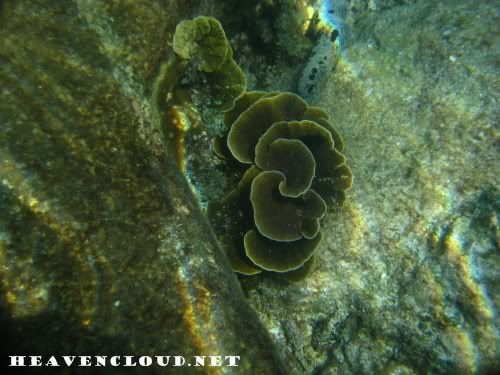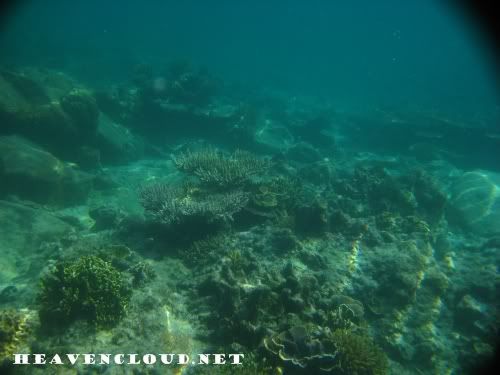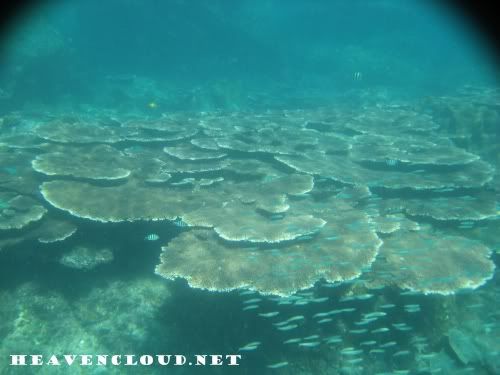 We went on and took a stroll on the beach towards the sea. It was my first time snorkeling and I truly enjoyed the view under the sea while snapping away pictures with our cameras :D Forgot to mention, for this trip, I especially bought two protective waterproof camera covers in order to do the underwater shoot. I gave one extra cover to Munzeer's camera in order for him to take pictures with his camera too. Thanks to my new Sony Cybershot W230 that comes with Underwater Mode, it enhanced the pictures I took and made it bright and clear :)
Say Cheeeeseeee!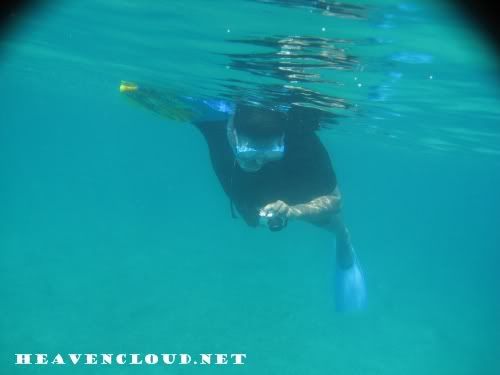 I'm busy taking the pictures
Did I mentioned that this is my first time snorkeling? Munzeer ended guiding me too close to the deep ocean. It was the first time for me to see the unlimited wall of darkness in front of me, and also the deep and scary ocean floor below me just full of dead corals. Honestly, I got scared (as before this I only swims in public swimming pools) as the feeling of insecure and drifting alone haunted me. I quickly made an excuse to Munzeer in order to get back to the beach. You won't believe how fast I paddled my way back LOL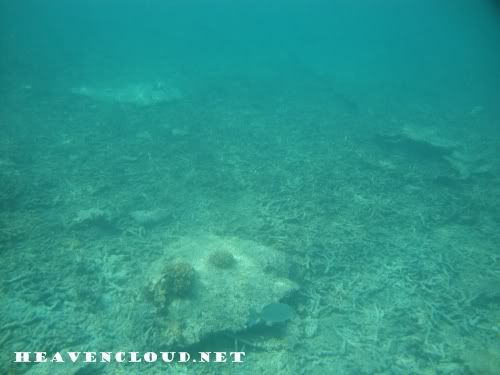 The vast field of dead corals
The endless invisible wall, scary!
On the shore, Basyeer was waiting since we took off without informing him :p So without wasting any time, we are going for the second round, but this time we bring the raft together with us. Seriously, having the raft felt more secure rather than using the swimming aid. Munzeer suggested us to go along the coast until the bay they saw earlier during their forest hiking. I truly regretted following his idea since we reached the bay around 6pm and it was getting dark >.< We had to walk with barefoot across the forest and I had my right leg bled from that.
Sea cucumber, seriously looks like a poop >.>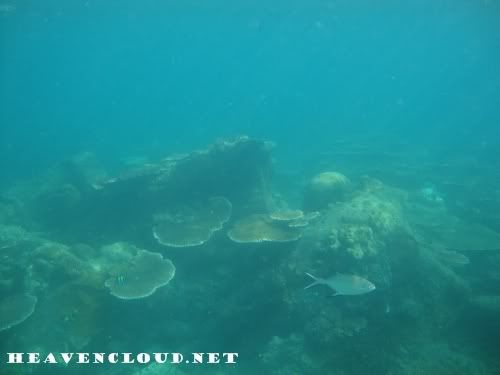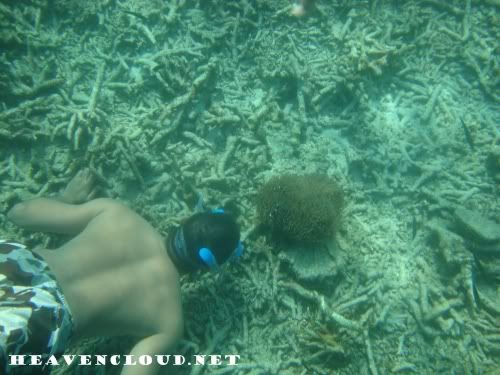 Munzeer tried to say Hi to Nemo
Basyeer is feeding up the fish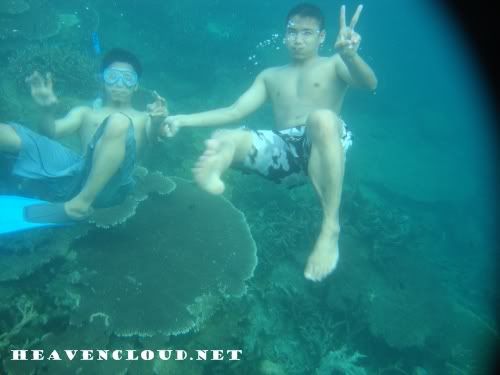 This shot is simply priceless :)
Right after reaching our camp, we quickly started searching for woods to make fire. Despite bringing the fire-starter, we almost failed to light up the fire >.< In the end, we succeeded and ate instant noodles as our dinner. Surprisingly by 8.30am, all of us already went to bed <.< As for me, fell asleep quite fast as I didn't sleep for almost two days now.
Basyeer resting after the snorkeling session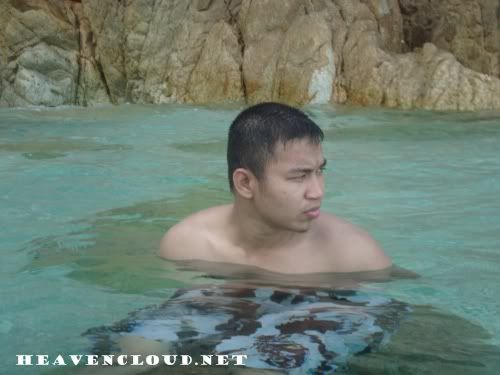 A macho shot just for the sake of his girlfriend >.>
But only God knows what on earth he was thinking of making out with the cave <.<
The funny thing about sleeping, waking up and felt refreshed, but the clock only showed 11.30pm >_< After that, I can't sleep at all until the dawn is coming LOL
Bon Fire!!!
Second day, Munzeer again came up with a crazy idea, snorkeling while circling around the island. Basyeer okay-ed with the idea while I opposed it as it would be damn dangerous to snorkel especially at the open ocean side as the wave will be hitting the rock wildly. So they took off while I just spent my time relaxing inside the tent.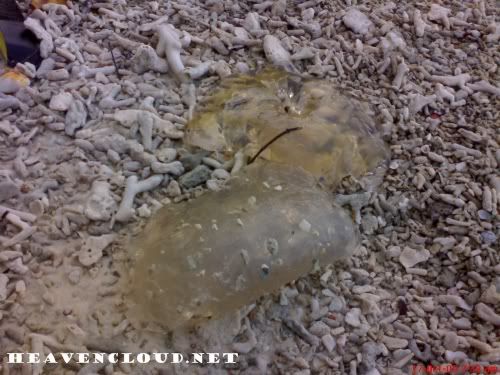 Dead jellyfish
Small baby shark
Dead tired
Can you spot the big shark?
Opsss! My finger slipped :P
They got back around 2pm and decided to rest for a while too (they decided to fall back after halfway). Soon after, we all both went for snorkeling again. Despite only snorkeling just nearby the beach, this time we found the valuable treasure, which is coral. The spot we found has the most corals that we have ever found on the island. The place itself was around 2 – 3 meters deep, most probably was meant for scuba divers. It was truly a breathtaking moment for all of us.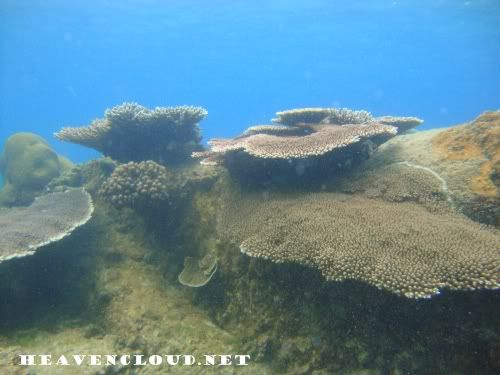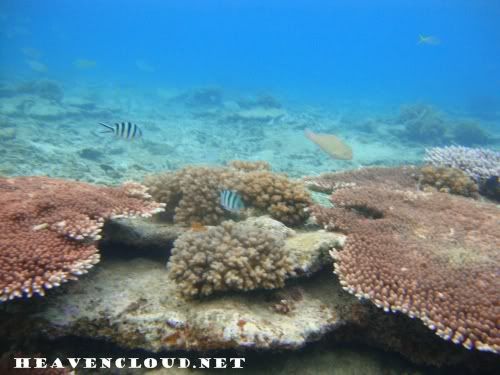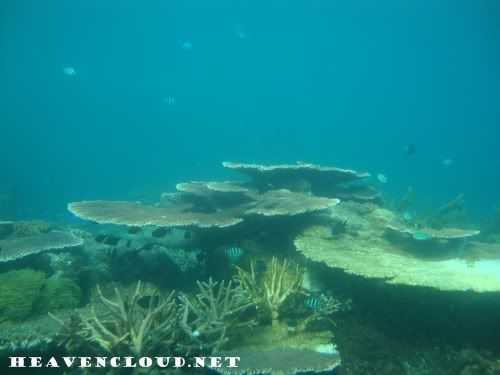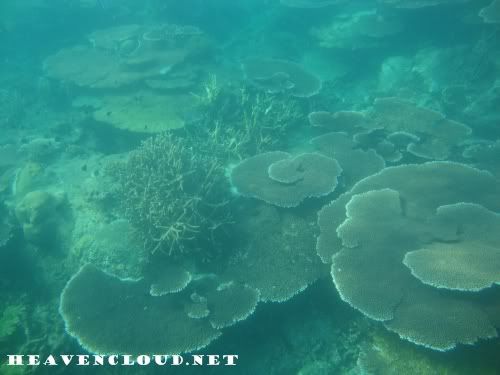 As the night coming by, most of all are getting prepared our equipments as we need to head out early in the morning to catch the boat to go back. By 8.30am on the next day, the boat departed from the island with us, together with the memories which some we managed to capture inside our camera. But it is just too bad we can't make for the night snorkeling due to bad weather for both nights T_T
Best Shot of The Day, goes to Munzeer (using my camera >.> )
Packing up
Waving goodbye to the island
WTF? In the middle of the ocean, still got coverage! I even made a phone call to my brother. Maxis pwned Digi on the ocean.
We reached ashore around 1 hour later, my brother arrived and picked us up. The first thing I did, open the car's air conditioner and enjoyed the moment. It felt like 1 month haven't feel the cold air despite being only 3 days LOL As it is time to head back, we stopped on a restaurant for lunch. This time, we ate the rice like we haven't eaten it for 1 year :P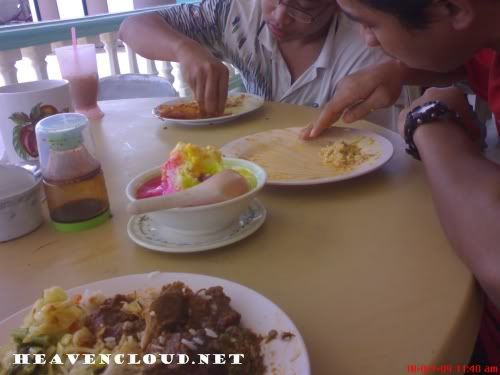 Eat like there is no tomorrow
Since we at Terengganu which famous for its fish crackers, I had a mega fish crackers shopping at Masjid Geliga, in between Kemaman and Cherating area. I think I spent more than RM100 on those items >.>
By the way, some of the others pictures that were not shown and those that does, in a higher 1024 x 768 resolution (come and see me yourself if you want to view the original 4000 x 3000 resolution pictures):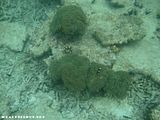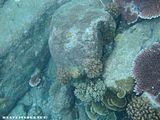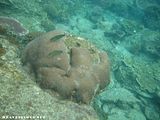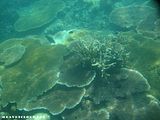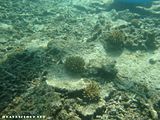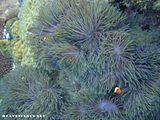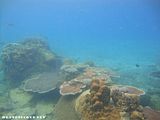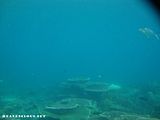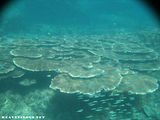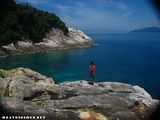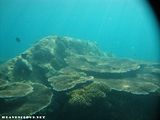 In any way, it was a wonderful expedition. The island itself is not bad, despite a lot of dead corals, but they still have some area where corals still live in peace and growing. Maybe one day, we will visit again the island to explore the place that we didn't manage to cover in the expedition. Until next time, I'll be looking forward for more adventure :)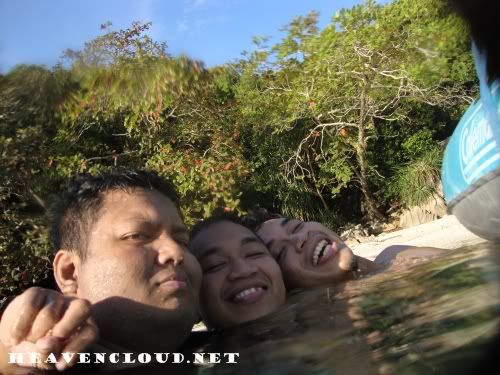 Ciao~