It has been a long time since I went to a water theme park. The last time I went there was about 10 years ago at the Shah Alam's Wet World. For the record, I even never ever went to the Malaysia's first ever water theme park, Sunway Lagoon :p Anyway, enough with the sentimental flashback shall we? :p
We decided to go there on the day after my cousin's wedding at my grandparent's house (I'll post about it in the next blog entry). The place, Bukit Merah Laketown Waterpark, which located just above Taiping. The place was decent, plenty of water rides, but somehow they installed bumps along the tunnel which proven to be a mood killer.
I know their purpose might to slowdown the balloon rides, but it was too high. When people ride the water attraction, speed is the factor to the thrill excitement. But they just blew it. Oh well, nothing much I can complain except for enjoying myself with the leftovers -.-
Well, nothing much to say. Enjoy the gallery below:
The infamous Japanese's Waterfall Purification ceremony (literally =p )
The most decent ride in Bukit Merah Waterpark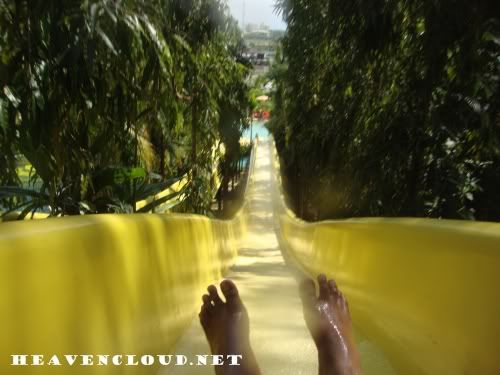 Here I go
More pictures and adventures after the jump:
"Fire in the hole!"
The most exciting part of all
That show ya the special effect of momentum =p
A group picture of those that went there
Can't resist to fool around with the alligator =p
Another memento picture
This cute-devilish cousin of mine can't resist on putting the "peace" symbol whenever she realized the camera is focusing on her
Everything that is fun will come into the end eventually as it is time to go back home (and the 'auntie' on the most right still sms-ing non-stop from beginning till now o.o )
Fun is fun, but don't forget your stomach needs
and my brother decided to do the monkey dance in front of the enterance before leaving >.>
By the end of the day, it was enjoyable. Although most probably we will be back (distance wise) but next time we are going to try The Lost World of Tambun, at Ipoh. Until then.
Ciao~