What would I do after getting my first bike? Ride like the wind~ :p The first thing I did was spending almost like RM2k for my equipments alone. But yeah, safety first. Screw any people that laughing at me for purchasing full-face helmet, riding jackets with padding, riding boots, glove and knee pads. At least if both of us fall, I can straight get up without scrapping my skins >.>
So far I had 2 long journeys with Ragnarok. One was the less-than-24-hours ride from Klang to Penang and back. It was pretty much an exciting adventure for me plus, during had the first time long distance during night @.@ Well, I just got news that my grandpa was sent to hospital in Ayer Hitam, Penang for an operation.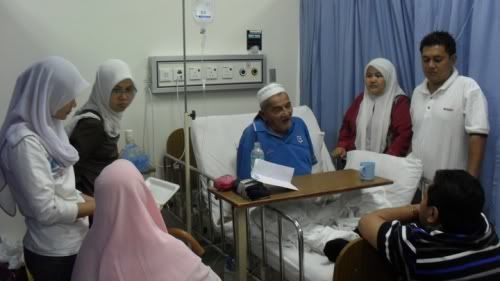 Photo taken from Nurul Asyiqin Bt Bahrudin's facebook
Started journey at 7.30pm and reached destination (mum's hometown at Perak) around 11.30pm. I only rest till 10am the next morning and started my journey to see my grandpa in Penang. By the clock ticking to 12pm, I already warming up my bike and started my journey back. I reached Klang around 4.30pm. So yeah, everything in less than 24 hours. The aftermath? Strained both shoulders for few days LOL Lesson learned, next time rest properly before making a continuous journey :D
Next crazy journey was during the first week of fasting. All of the sudden I had the urged of buying fish crackers (in malay, Keropok Lekor) in Kemaman, Terengganu ;D So I posted my crazy plan in the biker's forum where I always hang out. But in the one, one member decided to follow along with my crazy idea :3
More stories and pictures after the link:
Side profile of Ragnarok
Side profile of bro Iskandar's FZ
My plan? Simple. We meet at Shell petrol station before the entrance of Karak Highway 7.30am, take a break at Temerloh R&R, and go to Kemaman all the way. Simple isn't it? :p Here how we fared:
8.00am – Started journey
8.20am – Passed the Bentong tol plaza (ends of karak highway)
9.00am – Take a break at Temerloh R&R
9.20am – Continue journey
10.20am – Exit Jabor toll (ends of LPT)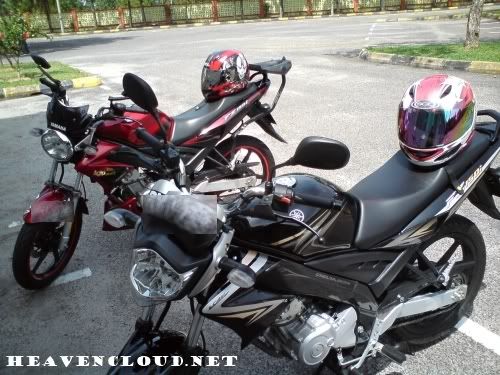 Arriving and resting at Masjid Geliga
Another shot :)
From there onwards, we were just on cruising speed till we arrived at Masjid Geliga in Kemaman. As we rest there, I tried to call Ryosuke just in case he is still on the land. Lady luck were on my side as he is still haven't got any order to go to any oil rig. So I called him over and we went to Haniff's house to get shelter. My main objective? Hehe, to test the monster, Honda CBR600RR which I was scared to test before (last time I got no license nor experience handling big bikes >.> )
The mother of all adrenaline-cracking machine :D
0 – 200kh/h is just a few seconds YEEHAAA, is just way greater than sex itself, I'm serious :p It left my knees shaking after the adrenaline rush, but nevertheless, it was damn fun :)
The excitement that you can never translate into words ;D
After a few more rest, then we bid goodbye to Haniff and Ryosuke as we continued our destination to buy the crackers. As for me, I bought the crackers enough to fill in my tank bag full xD We stopped by at Teluk Mak Nik beach a.k.a Monica bay to take some of the refreshing sea breeze before we went back :)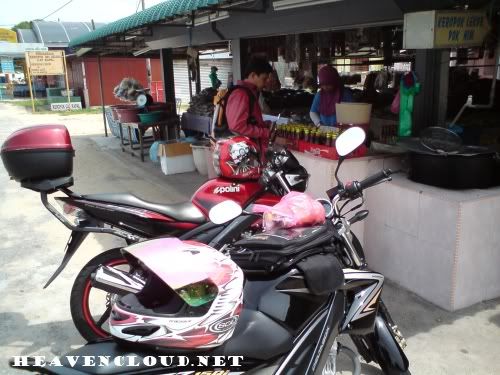 Busy shopping and filling up at the area just behind the Masjid Geliga
The refreshing sea breeze does give us back the strength to continue our journey back home :) But the sun doesn't shine forever. On the way back, we were showered with heavy rain at Gambang area. It was hard but still we decided to proceed with our journey until we stop by at Gambang R&R.
Upon stopping, I quickly opened up my boots and let the water flowing out. I saw most of people were looking at me with the WTF face xD After making sure the boots dried up (at least), we continued our journey back. We split after we exited the Karak Highway and I end up taking the wrong way to MRR2 (I'm such a klutz -.- ) and reached home around 7.20pm, just in time for break fasting.
The never-ending breezy sea :)
Anyway, it was a marvelous trip. Thank you to bro Iskandar a.k.a IISK in MBC forum for accompanying me those 600km worth of crazy journey xD
Ciao~