Aidilfitri has come to visit us once again. As usual our normal routine, the "balik kampung" (going back hometown) exodus will be the annual activity. For me, this year Aidilfitri will be slightly different. Instead of getting together sharing 1 car and drive all the way to my mum's hometown in Parit Buntar, Perak, this year I'm going solo. Yeah, for the first time I will go back to my mum's hometown on my own, alone, adventuring my way through with Ragnarok =)
When my mum found out, she only said "I knew it" while sighing :p My uncle (which also a biker) warned me that this time around is not a normal traffic that I'm facing. The traffic will be massive than normal. Yep, I know, I realize the huge block of wall I'm facing to ride all the way to the destination. But heck, being a hardcore RPG gamer once a long time ago whom known for notorious undying will to leveled up my game characters way too much (self-proclaimed :p ), I see this is an opportunity to level up myself with tons of experience points out there :D Ok… now I'm making life is like a RPG lol
Nevertheless, this is an adventure that shouldn't be missed. I had to buy a brand new saddle bag to equip with Ragnarok to keep all my clothes and stuff. The saddle bag is way neater and make the bike looks more elegant :) The journey itself, well, not too bad. Indeed the traffic was massive but somehow it was less than what I expected. Oh well. I started from Klang around 8pm and I reached there around 12.30pm without any drama.
So, what have I done during the eve? The collection of pictures below sums it all up ;)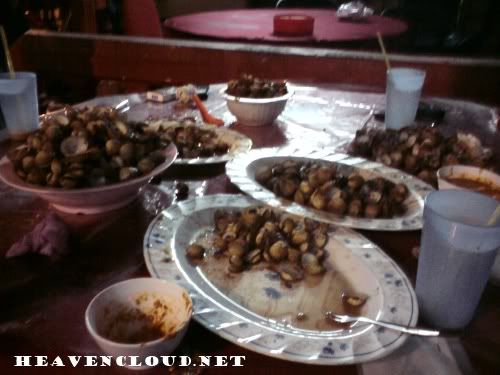 We ate too much of clam
We watched and played fireworks
We played UNO till dawn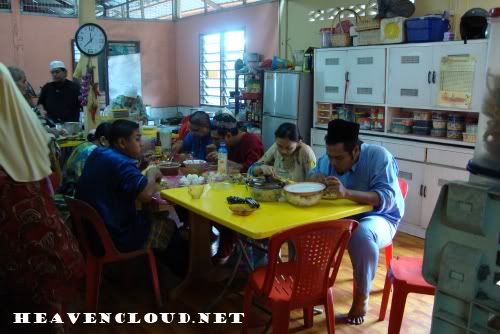 We ate, ate, ate, and ate a few more :p
We went to Penang Island for a stroll
And fool around with cousins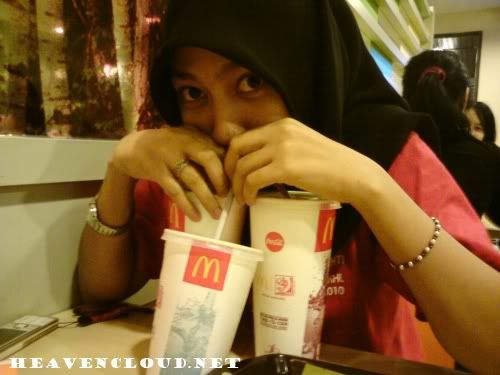 And drank till stomach gloated
We took group pictures (while I went somewhere else >.> )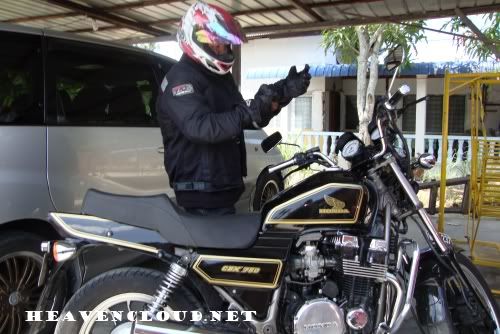 As I geared up my riding gears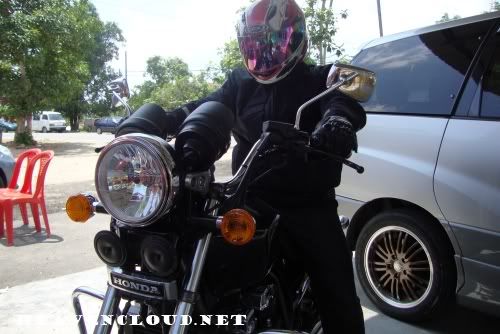 And only cared to be photographed with a bike :p
Well, it was fun and the weather was quite hot at the same time. I decided to cut short my holiday break and head back to Klang on Sunday. The traffic? It was God-like. The traffic jams started from Gunung Semanggol area (Taiping) and lasted till Slim River @.@ Well, lucky I was on the bike. I just rode on the center lane and took my sweet time riding through the traffic jams :D But the weather wasn't forgiving enough. It was raining all day from where I started till I reached Klang @.@ Oh well, it was a memorable experience that I'll never forget riding with Ragnarok :)
Finally, I would like to wish Happy Aidilfitri to all my family and friends. Hope the past mistakes or any bad things that I've done whether directly or indirectly can be forgiven.
Ciao~